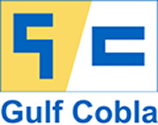 Gulf Cobla LLC
Gulf Cobla is the Group's international dredging and reclamation contractor, formed to carry out the prestigious Jebel Ali Port project which involved the removal of approximately 110 million cubic metres of sand, sandstone, caprock and conglomerate in five years.
The company has since worked on a substantial number of major and minor development projects in and around the Middle East focusing on the UAE, Bahrain, Oman, Qatar, KSA, Maldives, Jordan, Iraq, Kuwait, etc. Gulf Cobla owns a modern fleet of dredging and survey equipment which is managed and operated by a group of experienced professionals under global industry standard quality, safety and environmental norms.
Recent contracts included 3 Airport reclamation projects in the Maldives, dredging for the Aqaba New Port Development in Jordan, dredging at Al Faw Port in Iraq, temporary works for the construction of the Skydive Dubai runway, dredging and reclamation for the Sadr Port development in Abu Dhabi, the development of 6 fishery harbours in Oman and numerous other dredging and land reclamation projects in the Middle East.
VISIT WEBSITE